Despite the fact that it's been my birthday week, I've been reading a lot more lately. Most of that is because I have library books that are due next week and I cannot renew them anymore. Also, while there will most likely be a blog post about this in the future, I was called out more than once this week for reading Amish YA books. It's actually not a preferred genre choice despite the fact that I've read more than one.
There are four more months left in the year and I have read 131 out of 225 books from my Goodreads reading challenge. I'm 21 books behind schedule. It's going to a big push.
Sinners and the Sea by Rebecca Kanner (Howard Books, 2013)
My blurb: This book came out before the Noah movie so part of me wanted to read it for that reason. The other part was because most of the reviews came from Christian reviewers who were so horribly offended by it. And to be honest, that just makes me want to read it more. I really liked this story. Biblical fiction that is not horribly "Christian fiction slanted" is very awesome. Though my favorite Noah novel of all time still goes to Many Waters by Madeleine L'engle.
I've Never Been to Vegas But My Luggage Has by Mandy Hale (Thomas Nelson, 2014)
My blurb: I've been a fan of Mandy Hale after reading her book The Single Woman and following her on Twitter. I got to meet her at a book signing earlier in the year. This book was not what I was expecting but in a good way. I thought it was going to be more of a self help type of book but it's really more of a memoir. It's a very personal and hard to read at times but I can relate to so much of it.
The Traitor's Wife by Allison Pataki (Howard Books, 2014)
My blurb: Despite the fact that this is published by the Christian imprint of Simon and Schuster, this is not a Christian fiction book at all. It's just a wonderfully written historical fiction. I loved it. It's exactly what I want when I want to read historical fiction, none of that historical romance. I felt it was extremely well researched, well written narrative, and a section of US history we are aware of but don't really know too much. There needs to be more books like this.
Passing Strangers by Angela Hunt (Christian Writers Guild, 2014)
My blurb: There hasn't been an Angela Hunt book I haven't liked and this one can be added to the list. Most of the story takes place on a train. I LOVE stories set trains despite the fact that I've only ridden on one twice and that was just to and from Baltimore. It was just a very comforting read AND there a brief mention of Reston, VA which got me super happy. Also. Food.
Swimming to the Surface by Kristin Billerbeck (Createspace, 2012)
My blurb: I normally stay away when authors self publish even if I love their work. I'm kind of snobbish in that I will usually only read publishers I know. But I do enjoy Kristin Billerbeck's books and I read her blog and knew that the whole reason why she self pubbed this one was because none of the Christian publishers would take it due to the subject matter. So again, that was the  main reason why I wanted to read this one. It's a hard read. It shows the weakness and failures of the church and Christians who overabuse their power. MORE BOOKS LIKE THIS.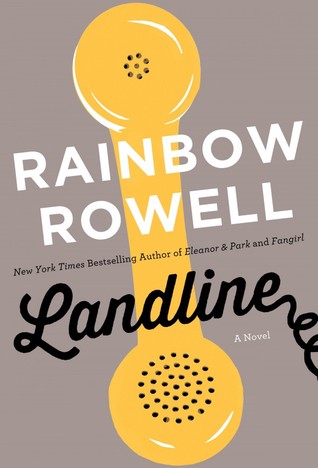 Landline by Rainbow Rowell (St. Martin's Press, 2014)
My blurb: I've enjoyed all of Rainbow Rowell's books and again, this one was no exception. I enjoyed it so much I read it in just a few hours. Time travel? Yes please. It's hard to explain without giving away the plot but it kind of reminded me of that Hallmark Hall of Fame Movie The Love Letter or that Keanu Reeves/Sandra Bullock movie The Lake House. There were a few things I did have faults with (who doesn't charge their phone or pick up their phone?) but otherwise a very satisfying read.