It's summer. And that means more reading time for most people. To newcomers of this blog, this is a semi-regular feature on my blog. I have no set date on when these posts will go up. It all depends on how much I read and how good the books are that I read. Lately, I have been picking good books so it's been good reading times for me.
On the Noodle Road by Jen Lin-Liu (Riverhead Books, 2013)
My blurb: I've really been on a foodie memoir kick lately. This one takes me into a journey through Asia and Europe and combines it with my love of pasta. After reading this, be prepared to eat a bowl of noodles. Doesn't matter how. You'll start craving noodles.
Kitchen Confidential by Anthony Bourdain (Ecco/Harper Perrenial, 2007)
My blurb: If you've ever watched No Reservations or that new show he has on CNN, then you can pretty much know what you can expect from Bourdain. It's written exactly how he talks. It really gives a great insight to what goes on inside a restaurant and includes many things that you wouldn't even think about. You'll still want to go out and eat after reading this one too.
The Secret History of Wonder Woman by Jill Lepore (Knopf, 2014)
My blurb: This book is more of a history book than a book about the comics. That wasn't what I was expecting when I picked this up but I was still quite delighted by it. I learned a ton of things that I never knew was connected to Wonder Woman such as the creator was a bigamist and was closely connected to Margaret Sanger, the famous birth control activist. It's a fascinating read and you won't look at Wonder Woman in the same way again. It'll make you look forward to her movie (more so than you did for that Batman V Superman mess of a movie.)
The Pug List by Alison Hodgson (Zondervan, 2016)
My blurb: IT'S A BOOK ABOUT A PUG. So of course I had to read this. Pugs are the best. This is actually a nice memoir about a family and how pugs had a huge impact in their life and what they did for the morale of their family during a very tough time. The only thing I wished was there had been pictures of pugs. You can never have enough pictures of pugs.

Raising the Barre by Laruen Kessler (Da Copo Press, 2015)
My blurb: The premise of this book is that a middle-aged woman decides to try out for the Nutcracker ballet. The Nutcracker is my favorite ballet of all time and based on her findings, so is almost everyone else's. Reading this book definitely makes me want to see the ballet live again one day. But not this version which still gives me nightmares.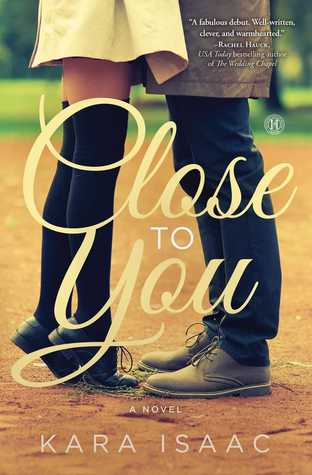 Close to You by Kara Isaac (Howard Books, 2016)
My blurb: Hobbits! Lord of the Rings cosplay! New Zealand! This book appeals to my geeky side as it is a contemporary romance that goes on a tour of Middle Earth. Plus the female lead has a PhD! It's one of the VERY few romances I've read that the story ends and I'm 100% satisfied with how everything turned out. My only complaint is the cover does absolutely nothing for the story. I suppose it's licensing issues but with such a LOTR heavy plot, couldn't there be a hobbit door or someone having hairy feet on the cover?
The Hired Girl by Laura Amy Schlitz (Candlewick Press, 2015)
My blurb: Finally! A YA historical fiction read that doesn't involve girls in fancy dresses who basically are modern girls disguised in a "historical" setting. This book follows the story of a girl who runs away from a horrible home life to become a house maid. There was a bit of controversy of how there might be some disparaging views of religion in the book but personally I feel that they represent the time period. It may be uncomfortable to read now in modern age but in a historical context, I believe they were accurate. Overall if you like books like Little House or Anne of Green Gables, you'll like this one too.
That's what I've been reading. What good books have YOU been reading lately?