It's the 4th of July today and most people who read this blog probably won't today due to cookouts, beach trips, fireworks, other things instead of being on the computer all day. But for those of you who DO happen to be reading this, it's time for another edition of what books I've been reading lately.
Quick reading update: the year is halfway over and I've read 93 out of my goal of 225 books for the year. According to Goodreads I am 20 books behind schedule.
Catch a Falling Star by Kim Culbertson (Point, 2014)
My blurb: Food! Movie making! Young adult fiction! This book has it all. This is a great summer read. One to bring at the beach from some light (but not fluff) reading.
A Beauty So Rare by Tamera Alexander (Bethany House, 2014)
My blurb: This book was a chunkster, 480 pages in the regular version, and I had borrowed the large print from the library which was a whopping 750 pages. But worth every one of them. I realized later that I hadn't read the first book in the series but it was ok as this one stood alone. I really enjoyed how the main character is 29 (old for the time period) and single and has accepted the fact that she is not what is normally desired. Because of that her focus is not on romance, even though it does eventually happen. There's also a good deal of food in this book as well.
Where Courage Calls by Janette Oke and Laurel Oke Logan (Bethany House, 2014)
My blurb: Janette Oke has always been comfort reading for me and I was thrilled that they're returning to one of my favorite series with this book. Apparently there's a TV show based on this, though I won't be watching. What I did like was back to the basics and returning to the roots of the series, set in the Canadian west. The characters were very believable and likable and the ending wasn't what I expected. I'm also a sucker for pioneer west books.
Goodnight June by Sarah Jio (Plume, 2014)
My blurb: I've yet to meet a Sarah Jio book I didn't like. This one features her signature style and adds in one of my favorite things ever: a book about the love of books. If you like Goodnight Moon, this story gives a "what if" story about the author.
Three Souls by Janie Chang (William Morrow, 2014)
My blurb: I think this is probably the best book I've read this year so far. If you liked The Joy Luck Club or any of Lisa See's books then you'll enjoy this one. It's set in China but it's a different type of Chinese story set in the 1920s-30s. The main character is educated which is different from most stories set during the time period. She's also dead from the beginning. I'm not doing justice here describing it. Basically if you're looking for a unique read about POC characters, this one is a winner.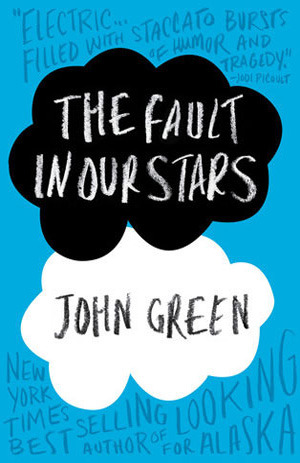 The Fault In Our Stars by John Green (Dutton, 2012)
My blurb: Yes, yes. I watched the movie before reading the book. And because of that, since I knew what happened I didn't cry while reading like most people did. However, I really enjoyed seeing Hazel and Augustus's story fleshed out and see what was different from what was in the movie. Also, this was my first John Green book ever. Yes, yes. I'm late to the game. Also I read this as an ebook on my computer because I didn't want to wait forever for a hard copy version from the library.
What good books have YOU been reading lately?