To newcomers of this blog, this is a semi-regular feature on my blog. I have no set date on when these posts will go up. It all depends on how much I read and how good the books are that I read. Lately, I have been picking good books so it's been good reading times for me. My spreadsheet is getting a workout!
I Work at a Public Library by Gina Sheridan (Adams Media Corporation, 2014)
My blurb: This book is HILARIOUS. Though you will probably appreciate it more if you work/worked in a public library (obvs). Which I do. If you do read it, please don't be those people.
Checkmate by Steven James (Signet Select, 2014)
My blurb: I've been reading this series from Steven James for about 6 years. It is one of the best thriller series I've ever read. It's also one of the few series that my mom and I both read. This was the conclusion and it was very satisfying. Also gory. Which is fantastic. Also elements of faith. Also fantastic. Also set near DC, woo! Sad to see end but so worth it.
Goodnight Darth Vader by Jeffrey Brown (Chronicle Books, 2014)
My blurb: These are just the cutest books ever. Seriously if you're a Star Wars fan and you don't like these, then you are not one with the Force. While you can read this to your kids, adults will enjoy them even more. SO CUTE.
The Secret Diary of Lizzie Bennet by Bernie Su and Kate Rorick (Touchstone, 2014)
My blurb: As you already know, I'm a huge fan of The Lizzie Bennet Diaries. One might think that this book was redundant, because The LBD is already a retelling of Pride and Prejudice so wouldn't this book be more so? Nope. It gives more insight into the story, plus the writers had to make sure everything matched up with the videos. That meant if they mentioned a date they had to go back to the timeline they had  created already to make sure that all characters were actually available on that date. Talk about fact checking! It's a wonderful addition to the series.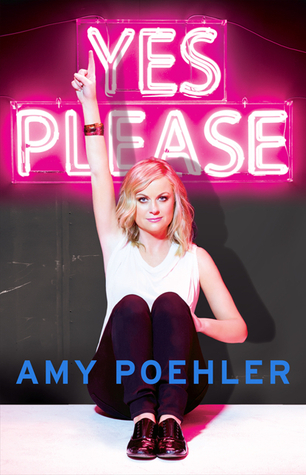 Yes Please by Amy Poeher (It Books, 2014)
My blurb: This book is awesome. First off, it's a beautiful book. The pages are not your normal book pages, they're more glossy and heavy. Second, if you're a fan of Amy's you'll love this book. It's hilarious just like her as well as insightful. It's not all deep and heavy full of secrets like other celeb memoirs. It's just Amy. If you've read her BFF Tina Fey's book Bossypants, you'll enjoy this one too.
That's what I've been reading. What good books have YOU been reading lately?